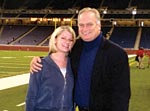 "I had a few of those episodes that were very real, real serious, like that. And that's why I don't own a gun anymore."
–Eric
Former NFL Quarterback
Medical Disclaimer
The information presented in this site is not intended as and should not be considered medical advice. Please consult your health care professional for an opinion regarding a specific medical condition.
Suicide Warning Signs to Act On
HAVE YOU FOUND YOURSELF:
Talking about wanting to hurt or kill yourself
Looking for ways to kill yourself like trying to get a gun, pills, etc.
Unusual talking or writing about death, dying, or suicide
IT MAY MEAN THAT YOU NEED SUPPORT RIGHT AWAY.
FREE HELP IS HERE: 1-800-273-TALK OR 1-800-273-8255.
Other serious signs to watch out for include:
Using alcohol or drugs more than usual
Talking about having no reason to live or having no purpose in life
Feeling anxious or worried
Not sleeping or sleeping all the time
Feeling trapped like there's no way out