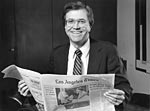 "Men are the worst. I was reluctant to go to a psychiatrist."
–Tom Johnson
Former CEO, CNN,
& Publisher LA Times
Toolkit to Plan a Community Event
The Men Get Depression resources include:
Broadcast Television Special. A one-hour documentary called Men Get Depression begins airing in May 2008 on public television stations nationwide.
Community Toolkit. The Toolkit includes:
A Campaign Overview
The Men Get Depression Community Outreach DVD which contains the following resources in English and Spanish:

Three age-specific videos:
profiles of men ages 18-30
profiles of men ages 30-55
profiles of men ages 55+
A printable .pdf of a Resource Booklet and Discussion Guide
A 30 second Spanish language Public Service Announcement (PSA) targeted to Latino men

A Men Get Depression Event Promotion Poster & Flier
Ideas for Outreach Activities
Tips for Screening in a Group Setting
A Host Survey
A Participant Survey
The Men Get Depression DVD being offered by PBS Home Video includes the documentary special and all video and print contents of the Community Outreach DVD.
.